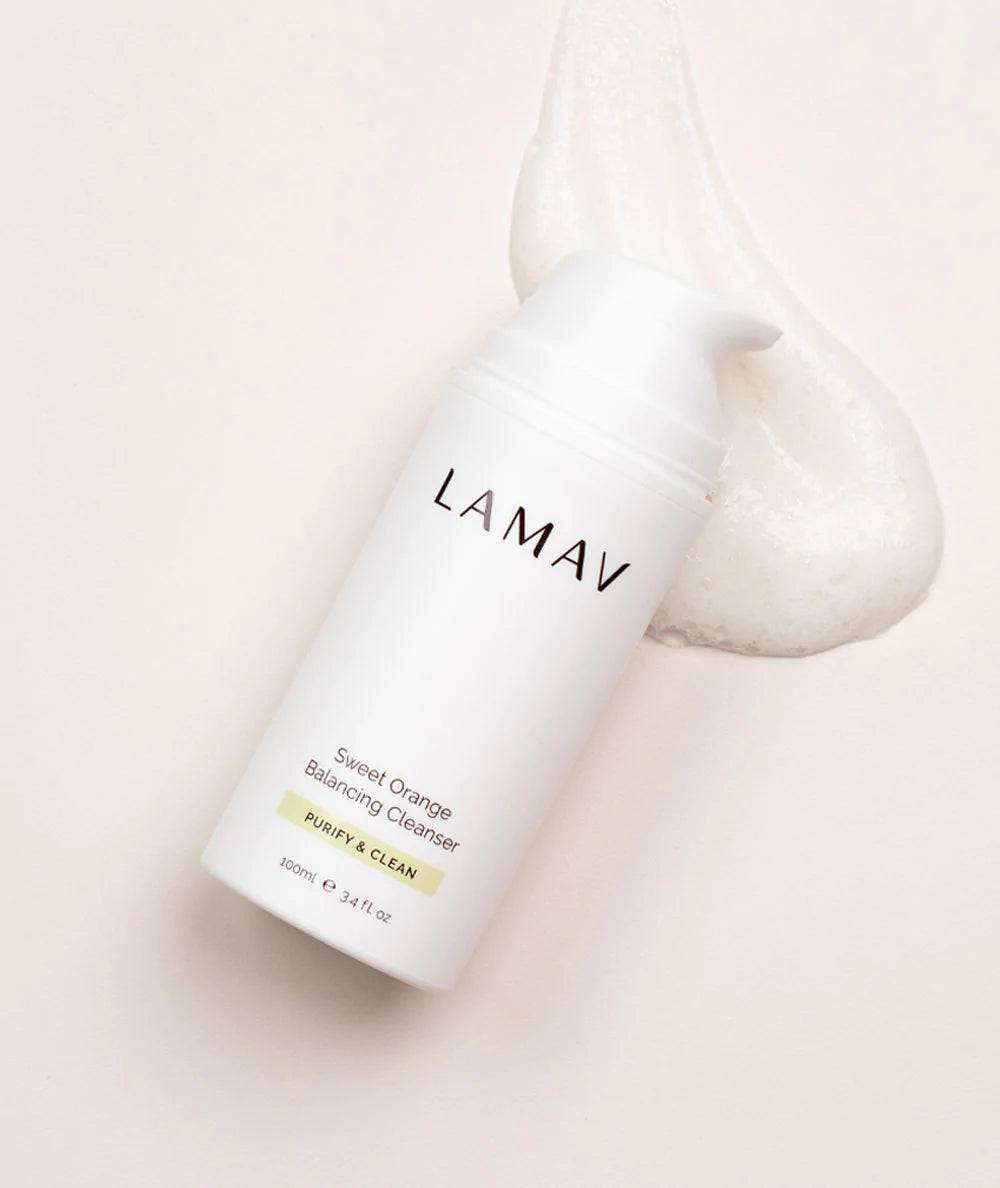 Bio-actives
LAMAV® Organic Skin Science™ utilises scientifically proven anti-ageing bio-actives. These bio-actives are chosen to focus on specific concerns and provide targeted solutions. All LAMAV products are also exclusively formulated using our trade marked Three Tier Formula™.
Derived from plants, bio-actives are naturally-occurring molecules which have been scientifically provento harbour compounds which exhibit high levels of antioxidant or anti-ageing activity. By incorporating at least 4–7 bio-actives in each formula, we are able to target specific skin concerns and deliver results that are clinically proven. At LAMAV, the bio-actives we utilise regularly address skin pigmentation, ageing, fine lines and wrinkles, oxidative stress, dehydration, tone and texture, skin firmness and elasticity.
By using Cellular Extraction processes, we also ensure that these highly concentrated and high-performing botanical molecules remain unadulterated – unlike the ingredients found in many conventional skincare products available.
Bio-actives used in our products
AHA FRUIT ACIDS

Promote deep exfoliation and encourage cellular turnover—stimulating the production of collagen and elastin to reveal smoother, brighter, more luminous skin.

As a concentrated blend of five nourishing botanical extracts—bilberry, sugar cane, sugar maple, orange and lemon—AHA Fruit Acids are naturally rich in lactic, glycolic, citric, malic and tartaric acids, to boost the skin and help to combat the effects of premature ageing; including fine lines, wrinkles and pigmentation.

AMLA BERRY FRUIT EXTRACT

This rejuvenating Ayurvedic herb is commonly known as the Indian Gooseberry and is a potent antioxidant containing naturally high levels of vitamin C—essential for healthy skin function and protection against skin ageing.

In Ayurveda, 'Amlaki' is thought to balance pitta types, easing digestive fire, supporting healthy liver function, immunity and reducing inflammation.

ASHWAGANDHA ROOT EXTRACT

A powerful adaptogenic herb traditionally used in Ayurvedic medicine for thousands of years. Particularly useful in helping the body adapt and respond to stress—ashwagandha also contains phytochemicals that support immune health, heart health and help to fight inflammation.

Its antibacterial and antimicrobial properties also make it beneficial in the treatment of acne—supporting skin healing—while its powerful antioxidant profile supports collagen production, making it useful in the fight against ageing.

BAKUCHIOL

Derived from the leaves and seeds of the Babchi plant, bakuchiol is a plant-derived active used traditionally in Ayurvedic and Chinese medicine to support skin health. Touted as a natural alternative to retinol—bakuchiol's rich antioxidant profile helps to brighten and rejuvenate skin, stimulating collagen production and strengthening the skin's extracellular matrix, fighting fine lines and wrinkles and counteracting the effects of oxidative stress.

Exhibiting anti-inflammatory effects, it has also been shown to assist in the treatment and reduction of pigmentation without any of the harsh side effects of retinol.

BASIL LEAF EXTRACT

Also known as 'holy basil' or 'Tulsi', this adaptogenic herb is rich in antioxidants and is commonly used to combat the effects of stress—both internally and externally. It is both antimicrobial and antibacterial—supporting skin healing—as well as anti-inflammatory, promoting more even skin tone and texture by fighting the ageing effects of pigmentation and reducing free radical damage caused by environmental stressors.

BISABOLOL

Derived from chamomile, bisabolol calms and soothes irritated, ruddy skin. Its rich antioxidant profile makes it useful in the protection from free radical damage and oxidative stress, reducing the visual signs of ageing.

Bisabolol has also been studied clinically in terms of its benefits in lightening the skin and reducing hyperpigmentation.

CAVIAR FINGER LIME EXTRACT

Cellular extraction methods ensure the complete biochemical profile of this native Australian bio-active is harnessed. Derived from the subtropical rainforests of the Northern Rivers region of New South Wales, finger lime contains naturally high levels of fruit acids and antioxidants which both gently exfoliate the skin—reducing glycation—and provide a burst of hydration.

As a potent source of vitamin C and ferulic acid—finger lime helps to repair and rejuvenate the skin on a cellular level. With essential amino acid, tryptophan, finger lime also helps to lock moisture into the skin, restoring its Natural Moisturising Factors (NMF) and it's this nourishing combination of nutrients which is ideal for those with sensitive, irritated or inflamed skin.

CHLORELLA VULGARIS EXTRACT

Derived from seaweed, chlorella vulgaris is a microalgae rich in amino acids and oligopeptides. Helping to stimulate collagen production and firm the skin by preserving elastin, this powerful nutrient fights the effects of premature ageing; including fine lines and wrinkles.

It also corrects and reduces vascular imperfections, pigmentation and dark circles.

COENZYME Q10

Also known as Ubiquinone, Coenzyme Q10 is a fat-soluble compound that although produced by the body, declines with age. It is praised for its powerful antioxidant effects and aside from its important role in carrying energy to our cells, it is primarily considered to be a free radical scavenger—helping to neutralise and even prevent damage caused by oxidative stress due to ageing.

When applied topically, CoQ10 assists in reducing the visible signs of ageing including fine lines, pigmentation and wrinkle depth. It also works synergistically with vitamin E to further protect cells from oxidative stress.

COMMIPORA MUKUL RESIN EXTRACT

Extracted from the oleoresin of the Guggul tree—found in Western India and the Arabic peninsula—this plant active harbours anti-inflammatory benefits. Its plumping properties assist in improving skin tone and texture—smoothing wrinkles and firming the complexion.

DAVIDSON PLUM FRUIT EXTRACT

This native Australian bio-active is also known as Ooray and is a rich source of phytonutrients—including anthocyanins—which harbour powerful antioxidant benefits, encouraging cellular turnover and protecting the skin from the ageing effects of oxidative stress.

It is an excellent source of vitamin E and zinc which are both essential for healthy, radiant skin and its free radical-scavenging abilities provide incredible anti-ageing benefits—helping to preserve collagen, brightening and firming the skin while also reducing the visible effects of UV damage.

DESERT LIME FRUIT EXTRACT

Delivering stable and bioavailable vitamin C, this Australian native bio-active contains tiny juice pearls which support collagen synthesis, skin brightening, wrinkle reduction and hydration. As a powerful antioxidant, its anti-inflammatory properties also assist with skin repair and healing.

EMU APPLE FRUIT EXTRACT

A native Australian extract (Kunzea pomifera) which contains 9 phytoactive compounds. As a powerful antioxidant, it nourishes and protects the skin from free radical damage and oxidative stress associated with ageing—supporting collagen synthesis and skin hydration. It also may help to reduce dark circles and puffiness around the eyes.

FLAME TREE FLOWER EXTRACT

Identifiable by its bright red bell-shaped flowers, the Flame Tree is also known as the 'Kurrajong' and is packed with powerful, bioavailable actives. Its potent antioxidant profile helps to support collagen production and fight the visible signs of ageing—brightening the skin and assisting with hydration.

GATULINE EXPRESSION

A targeted anti-wrinkle ingredient designed to relax facial muscles and limit the micro-contractions that can aggravate and lead to deeper facial wrinkles.

GINSENG ROOT EXTRACT

Used for centuries in traditional Chinese medicine, it is a potent antioxidant and anti-inflammatory. Improves skin tone and texture, supporting collagen synthesis and reducing the appearance of wrinkles, while also brightening the skin and protecting against UV-induced skin damage.

GREEN TEA EXTRACT

Rich in polyphenols—specifically catechins—green tea helps to protect and repair the skin from the damaging and ageing effects of free radicals.

Contains Methylxanthines—compounds which are anti-inflammatory and help to reduce redness and irritation in the skin—and also inhibits collagenase, the enzyme that breaks down collagen. Improves skin elasticity, moisturisation and may also assist in repairing the effects of skin damage and ageing caused by sun exposure and other environmental factors

HYALURONIC ACID

With the ability to hold 1000 times its weight in water, this powerful humectant binds to water in the cells, helping to boost hydration and replenish moisture in the skin.

Although naturally produced by the body, hyaluronic acid declines as we age—leading to dehydration, fine lines and wrinkles. It is extremely moisturising and improves skin firmness and elasticity, resulting in a plumper, smoother complexion.

KAKADU PLUM EXTRACT

As the world's most potent and pure source of vitamin C, this antioxidant is a free radical scavenger that boosts skin radiance by neutralising free radicals that cause skin damage.

With an impressive polyphenol profile—including gallic and ellagic acids—Kakadu Plum Extract also helps to support collagen synthesis, plumping the skin and improving the appearance of fine lines and wrinkles.

Its natural antimicrobial and anti-inflammatory properties may calm inflamed, irritated skin while also brightening the complexion and combatting hyperpigmentation.

KANGAROO PAW FLOWER/LEAF EXTRACT

Known to assist with skin repair and hydration, this bio-active contains ferulic and hydroxycinnamic acids which boast potent free radical scavenging abilities. Ferulic acid also supports skin integrity, protecting the skin against photoageing.

L22

A collection of botanically-sourced lipids which work to support the skin's protective barrier function—improving skin firmness and elasticity as well as hydration.

LEUCIDAL/LEUCIDOL SF

This antimicrobial probiotic strain helps to rebalance and restore the skin's delicate PH while also reducing inflammation and hydrating the skin.

LICORICE ROOT EXTRACT

As a potent antioxidant, licorice root extract possesses anti-inflammatory properties which are shown to help improve skin healing. It is also considered to be nature's skin brightener—possessing compounds which may lighten the skin and combat pigmentation.

LILY PILLY FRUIT EXTRACT

Also known as Riberry, this plant-derived extract is a rich source of vitamin C—essential for skin health—and assists with skin repair. Widely used to brighten the complexion and reduce pigmentation associated with ageing. Also supports collagen production, firming and smoothing the skin's surface.

MARITECH BRIGHT

Derived from wild grown Fucus vesiculosus seaweed, this active contains 90% of fucoidan-polyphenol complex—a powerful skin brightener, with potent antioxidant benefits, enhancing skin radiance and combatting pigmentation, reducing the appearance of age spots.

MARITECH REVERSE

A fucoidan extract that possesses skin-protective and anti-ageing benefits. Derived from wild Undaria pinnatifida seaweed and hand-harvested, this nourishing active reduces wrinkles depth, improves skin firmness and elasticity and protects against free radical damage, glycation and dehydration due to UV damage.

Impedes skin breakdown while preserving natural collagen to enhance overall skin appearance by up to 68%, while also improving skin elasticity by up to 67%.

MOUNTAIN PEPPER LEAF EXTRACT

A native Australian bio-active that boasts incredible anti-inflammatory and antioxidant benefits. Particularly high in phenolic compounds as well as anthocyanins—this extract has the capacity to directly target and scavenge free radicals, helping to strengthen and protect the skin from collagen degradation and ageing.

PAPAYA FRUIT EXTRACT

A powerful plant active renowned for its abilities to refresh and repair skin. Rich in proteolytic enzymes, it exfoliates and moisturises the skin—encouraging cellular turnover and helping to repair damaged, pigmented skin.

POMEGRANATE FRUIT EXTRACT

With a rich antioxidant profile and containing high levels of ellagic acid and anthocyanins, pomegranate fruit extract promotes deep skin healing. With anti-inflammatory and antibacterial properties, it regenerates the skin and stimulates blood flow, helping to promote anti-ageing activity and even protecting skin cells from oxidative stress caused by UVB.

PRORENEW COMPLEX CLR

Helps to rebalance the skin's delicate microbiome and speed up cell renewal. It also works to preserve and protect the skin's natural barrier function, strengthening it against environmental stressors.

QUANDONG FRUIT EXTRACT

A powerful Australian native rich in fruit acids and antioxidants that harbours anti-inflammatory and skin-healing benefits—reducing the appearance of fine lines and wrinkles, while also combatting pigmentation and redness.

It also contains bioflavonoid rutin that is said to help boost circulation and strengthen capillaries—which may reduce the appearance of dark eye circles. With twice the vitamin C than oranges, quandong is an anti-ageing powerhouse.

RUMEX EXTRACT

Derived from Field Dock—a plant native to Canadian prairies—rumex is used to treat hyperpigmentation by inhibiting the enzyme which causes the development of pigmentation in skin. The result is a more even skin tone.

SQUALANE

Used to boost hydration and fight free radicals, squalane is extracted from olives and behaves like squalene—which is naturally produced by the body, but declines as we age.

Its antioxidant compounds help to protect the skin from oxidative damage—caused by environmental factors—and boost collagen synthesis, for smoother, more youthful-looking skin.

TURMERIC ROOT EXTRACT / POWDER

Used traditionally in Ayurveda, turmeric root is a potent anti-inflammatory, antimicrobial and antioxidant. When used topically, it may provide therapeutic benefits—reducing scarring and improving wound healing, while also soothing inflammatory skin conditions such as acne and psoriasis.

VITAMIN C

Essential for normal skin function, vitamin C is a powerful antioxidant which helps to fight the effects of ageing. Promotes a more even skin tone by protecting the skin from oxidative stress—lightening and brightening the skin, while reducing hyperpigmentation. It also works to support collagen production and protect against sun damage—reducing the appearance of fine lines and wrinkles.

WARATAH FLOWER / LEAF EXTRACT

A rich source of phytonutrients, this Australian bio-active helps to calm red complexions and soothe sensitivity.
Specialty oils used in our products
Acai Berry Fruit Oil

This antioxidant-rich berry contains impressive levels of anthocyanins—compounds which protect the skin against ageing while also fighting the effects of sun damage caused by free radicals, protecting the skin's extracellular matrix.

Its anti-ageing, anti-inflammatory and emollient properties make it particularly useful for moisturising the skin and soothing inflammatory skin conditions.

Argan Kernel Oil

Derived from the argan nut and commonly known as 'Moroccan Oil'—this skin-protecting superfood is characterised by its light, non-greasy formula. This makes it ideal for oily or acne-prone skin types as it helps to balance the skin's natural lipid levels without clogging pores.

Containing an abundance of vitamin E, as well as essential fatty acids and antioxidants—argan oil is deeply moisturising, anti-inflammatory and known to protect the skin from sun damage as well as scarring by supporting and strengthening skin structure. It also fights ageing by improving skin elasticity.

Baobab Seed Oil

Native to Eastern and Western Africa and derived from the 'Tree of Life'—baobab oil has an impressive phytochemical profile, rich in antioxidants and anti-inflammatory linoleic acid making it ideal for dry skin types as well as acneic skin due to its non-clogging properties.

This nourishing oil is quick to absorb and also contains up to 10 times more vitamin C than oranges—which is essential for healthy skin function and combatting the effects of ageing. Improving skin elasticity and promoting cell renewal—baobab oil also assists with collagen formation, for plumper, smoother skin.

Chia Seed Oil

A versatile ingredient rich in omega fatty acids, making it ideal for nourishing skin and protecting it against damaging UV rays—as well as fine lines and wrinkles.

Its fatty acid content also makes it beneficial at restoring the skin's moisture barrier, reducing trans-epidermal water loss (TWEL).

Kakadu Plum Oil

Also known as Billygoat Plum or Gubinge, this nourishing oil contains incredible levels of vitamin C—six times the polyphenols and more than 13 times the antioxidant activity than blueberries—making it an anti-ageing powerhouse!

Given that vitamin C is so essential for skin health, this nourishing oil helps to promote collagen production and encourage cellular renewal, protecting the skin from free radical damage and pigmentation.

Pomegranate Seed Oil

Pressed from the seeds of one of the most antioxidant-rich fruits in the world, pomegranate seed oil has a plethora of skin benefits due to its polyphenol content. Containing skin-protective vitamin C and ellagic acid, it protects against sun damage and collagen degradation, preserving skin firmness and elasticity.

It's also anti-inflammatory so is used to soothe irritated or sensitive skin types and may even help reduce the appearance of skin damage and scarring.

Marula Seed Oil

ENative to Southern Africa and extracted from the kernels of the Marula Tree, this oil contains fatty acids and antioxidants—including vitamins E and C—which are essential for the maintenance of healthy skin and work to prevent free radical damage.

Its lightweight and non-greasy texture also make it an excellent moisturiser as it absorbs easily—promoting smoother, more hydrated skin.

Mango Seed Butter

Naturally rich in fatty acids—particularly omega 6 or linoleic acid—which helps to deeply nourish the skin and combat inflammation. It has also been used to help promote wound healing.

Raspberry Seed Oil

Proven for its anti-inflammatory abilities, raspberry seed oil may help to soothe inflammatory skin conditions. Rich in linoleic acid, essential fatty acids and antioxidants such as vitamin A and vitamin E—it's also deeply nourishing for the skin and assists in reducing the visible signs of ageing such as fine lines and wrinkles by helping to promote collagen synthesis and fight free radical damage.

Rosehip Seed Oil

Famed as one of the best anti-ageing ingredients, rosehip seed oil helps to repair and rejuvenate skin. Containing high levels of essential fatty acids—including oleic, linoleic and linolenic—it also contains vitamins A and C which are both vital for the maintenance of normal, healthy skin and collagen production.

With lycopene and beta carotene, rosehip seed oil may assist in lightening skin pigmentation—while this anti-ageing powerhouse has also been shown to inhibit the creation of MMP-1 which is the enzyme that breaks down collagen in the body.

Sandalwood Seed Kernel Oil

Derived from a tree native to semi-arid areas at the edge of Southwest Australia and traditionally used as an essential oil—sandalwood seed kernel oil is now used in skincare for its hydrating, anti-ageing and skin-soothing benefits. Containing a complex profile of omega essential fatty acids, it helps to target fine lines and wrinkles, strengthen and protect the skin's delicate barrier function and support skin hydration. Often used as a skin-soother and astringent.

Sea Buckthorn Oil

Popular in both Ayurvedic and Chinese modalities, sea buckthorn oil is a potent antioxidant containing an estimated 190 bio-actives and an impressive collection of skin-loving vitamins and minerals.

It fights free radicals and ageing, supports skin healing and regeneration, reduces the appearance of pigmentation and scarring, improves skin firmness and elasticity and also helps reduce trans-epidermal water loss (TWEL).

Tamanu Seed Oil

Used in anti-ageing skincare, it is rich in skin-moisturising fatty acids as well as antioxidants which scavenge free radicals, helping to reduce fine lines and wrinkles.

It is also used as an anti-inflammatory, promoting skin healing and rejuvenation.